DOMAIN is a transmedia performance that explores the urgent philosophical implications of the rapid evolution of artificial intelligence. Intertwined interactions with a participatory installation, online multimedia content, and a theatrical performance immerses the audience in the complex relationship between Jonah, an unorthodox digital savant, and her creation, ANNI, the world's first sentient artificial intelligence. The narrative unfolds across these platforms in a series of surreal, fragmented scenes from Jonah's life.

ARCOS' ambitious experiment spanned seven months, including multiple live and virtual performances, online diaries, text message conversations, interactive installations, "method-dancing" character development. It culminated in an evening-length stage premiere at Engagement: Symposium of Philosophy and Dance at Texas State University. Both the subject and container of this project grappled with the human experience in the age of artificial intelligence.

• Story: Eliot Gray Fisher, Curtis Uhlemann, Erica "EG" Gionfriddo
• Script and Media: Eliot Gray Fisher, Curtis Uhlemann
• Choreography/Staging: Curtis Uhlemann, Erica "EG" Gionfriddo
• Music: Eliot Gray Fisher, Brandon Guerra, Chris "Isto" White
• Additional Music: Karles McQuade
• Sets: Curtis Uhlemann
• Lighting: Scott Vandenberg
• Costumes: Curtis Uhlemann, Erica "EG" Gionfriddo
• Performers (San Marcos): Alexa Capareda, Erica "EG" Gionfriddo, Katie Hopkins, Alyssa Johnson, Hailley Laurèn, Taryn Lavery, Felicia McBride Guerra, Clay Moore, Sarah Anne Navarrete, Indigo Rael, Connor Timpe.
• Performers (tour): Tanner Bolin, Nicole Corpion, Kaitlin Innis, Patrick MacDonald, Kelsey Paschich, Krista Leigh Pasini, Andrew Primm, Ekalos Reed, Steve Santos, Curtis Uhlemann, Karina Wilson, and Giacomo Zafarano.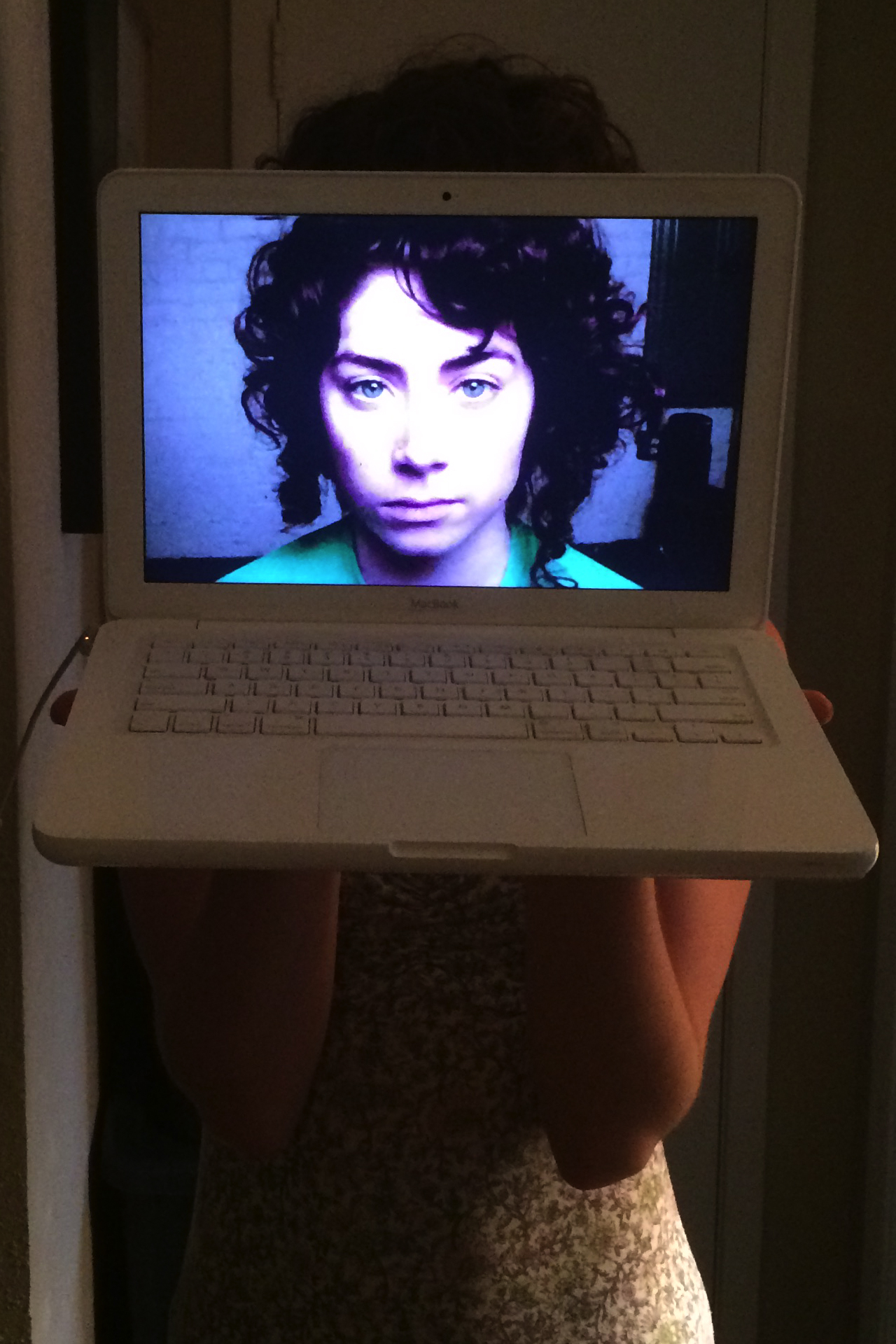 - Texas State University: Engagement: Symposium Philosophy and Dance: DOMAIN, 90-minute performance and ANNI installation, San Marcos, TX, September 8–11, 2016

- HaltForce Art Collective: In the Ever Now: "Conversations with ANNI," "An Earlier Function," and ANNI installation, 2905 Montana Ave, Billings, MT, August 12, 2016

- Big Rig Dance Festival: "Whaling," 7-minute dance solo and livestreaming video, Denton, TX, July 30, 2016

- Morton James Public Library, ANNI installation, Nebraska City, NE, August 3, 2016

- All Is Fair In Love + Wear: ANNI installation, Kansas City, MO, July 24, 2016

- Fusebox Festival: ANNI, 1-minute interactive video, Austin, TX, July 22, 2016

- The Museum of Human Achievement: ANNI installation-performance, Austin, TX, July 1–2, 2016

- Fresh Santa Fe: ANNI installation, Santa Fe, NM, June 18, 2016

- Currents New Media Festival: "Elegy," 360-video and live performances, Santa Fe, NM, June 16–18, 2016

- performa/dance: "Hoaxers," 25-minute multimedia dance, Austin, TX June 10–11, 2016

- Austin Dance Festival: "Sister," 10-minute dance, Austin, TX, March 5, 2016

- Connecticut College: Open All Ports: Ammerman Biennial Symposium for Arts and Technology: ANNI installation-performance, New London, CT, February 25–27, 2016
PRESS + PUBLICATIONS